Trailway Campground Rates & Rules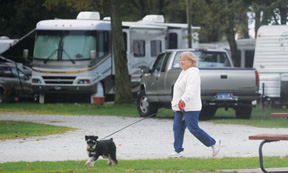 Important Info
Reservations:
Reservations are recommended. You can contact the Trailway Campground Office (231-894-4903) and/or email (campground@cityofmontague.org) to request a reservation. Please provide arrival date, departure date, RV type, and RV length when requesting reservation. Please Note: All correspondence during the offseason should be made by email. Please scroll down for more information on rates and reservations.
1. Check-out: 12:00 noon Check-in: 1:00 pm No arrivals after 10 pm without prior management approval.
2. All reservations require a deposit of 1/2 of total camping fee, must be received at campground within 7 days after making reservation & are non-refundable unless medical reasons are confirmed. No reservations will be confirmed without a deposit. All reservations not confirmed with a deposit will be cancelled. If you wish a confirmation of your reservation please enclose a stamped, self-addressed envelope with your deposit.
3. Cancellations received more than 14 days prior to date of arrival will receive a full refund of the deposit minus a $15 processing fee. Cancellations received less than 14 days prior to date of arrival will forfeit the full amount of the deposit. No refund or credit for early departures.
4. Rates are based on two adults and their children under age 16. Extra adults and/or children age 16 and over are charged $5 per person per night.
5. Every effort will be made to honor a reservation for a specific site, however, management reserves the exclusive right to assign sites and/or change sites as needed to promote the optimum productivity and efficiency of the campground. Deposits do NOT guarantee a specific site and will not be refunded in the case of refusal of assigned site. Management may offer an alternate site if any are available, but are not obligated to do so.
6. THERE ARE NO TENT SITES AT TRAILWAY CAMPGROUND. Bicyclists with small tents MAY be allowed for one night in rustic area with management approval.
7. There are no campfires allowed at sites. There is a communal campfire pit in park for your use. No wood may be brought in. Wood is provided.
8. Pets are welcome with well-trained owners. Pets MUST be leashed at all times and may NOT be tied outside your unit unless you are present. Pets may NOT be left unattended and excessive barking is not allowed. Pets are NOT allowed in restrooms. If your dog is aggressive leave him at home.
Rates
(Note: Mobile Users may need to use horizontal scrolling to view this table.)
Rates:
Daily
Weekly
Monthly
RVs
$40
$240
$700 + electric
TENTS
N/A
N/A
N/A
We only offer tenting to bicyclists. Contact management for pricing and bicycle groups in rustic area.
Seasonal RV sites are $1800 + electric (5.5 months). Call between October 1st & October 15th for availability of seasonal sites for next season.
Rates are subject to change without prior notice. For site availability during season please call 231-894-4903 or email us.
Campground Features
City water, sewer, and electric at all sites except sites #20, 21, & 22. These sites have water and electric only. Rustic sites have no utilities and are reserved for bicyclists without vehicles only.
Free wireless internet at sites for registered campers
Picnic tables and cement patios at all sites
Clean, modern restrooms and hot showers
30/50/110 electric service.
Dumping station (free to campers). $10 fee to non-campers
Two public boat launches nearby
Central common fire pit and pavilion with wood provided by city – No campfires allowed at sites
Daily, weekly, monthly and seasonal rates
Big rigs welcome!
Please Note:
Cable television is available with a receiver box & equipment. You will need to sign out a box at the office, or you can bring your own box from home if you have Charter Cable. If the box is not returned before you leave you will be billed $100 for replacement of the box & equipment. No other option is available for cable television viewing.