The Farmers' Market is located on the southeast corner of Church Street and Water Street, one block south of the stoplight.
The Farmers' Market opens the first Saturday in June and runs every Saturday through the last Saturday in October. The Market is also open on Wednesdays in July, August, and September. Market hours are from 9 am to 1 pm.
A few of the farmers and gardeners begin selling prior to the official start in June. Early season products available most Saturdays in May include honey, baked goods, maple syrup, asparagus, rhubarb, and greens. Contact Jeff at Montague City Hall weekdays for more information.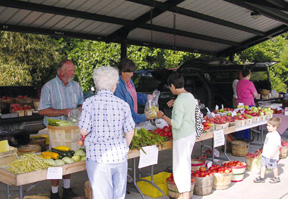 Interested in a booth at the Farmers' Market?
The Farmers' Market, overseen by the Downtown Development Authority, permits local vendors to sell fruits, vegetables, baked goods, flowers and plants.
Any farmer or baker who is interested in selling goods at the Market should contact Farmers' Market Manager, Jeff Auch at City Hall at 893-1155 ext. 1757 to check if any booths are available.