Ellenwood Park in downtown Montague is the home of the World's Largest Weathervane. The park was designed to resemble the Town Squares of days gone by. The handsome, stainless steel City Logo mounted on the brick wall was created and donated by Leading Edge Fabrication of Montague.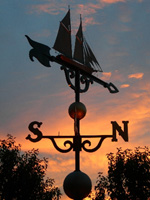 The Saga of the Schooner "Ellenwood"
The 157-ton lumber schooner Ella Ellenwood, was built in Saginaw, Michigan in 1869. She was purchased by Captain Thomas Flagstad of Montague, a native of Norway, who operated the schooner out of White Lake.
On the night of October 1, 1901, while bound for Milwaukee, Wisconsin with a load of maple edgings and shingles, the Ellenwood ran aground off Fox Point about eight miles north of the Milwaukee harbor. Within hours, strong northerly winds and waves began to break up the schooner, causing the Captain and crew to abandon ship.
They made shore safely in the schooner's yawl with the aid of a compass and an anchor light. By the next day, the Ellenwood's stern and transom were broken away and the hull had so badly worked loose that the masts wobbled in opposite directions with each swell.
Only the bark cargo was salvaged. The maple edgings in the hold and the schooner were left to the elements.
The following spring in 1902, a portion of the wooden nameplate "ELLENWOOD" was found inside the White Lake Channel. Incredibly, the nameplate drifted around Lake Michigan and by mere chance, or fate, entered the narrow channel to White Lake and washed ashore in White Lake. The Ella Ellenwood had found her way home!
This 115-year-old nameplate and a scale model of the Ellenwood are exhibited in the downstairs lobby of the Montague City Hall. The nameplate is a gift from Mrs. Lee King, a relative of Captain Flagstad. Other descendants of Captain Flagstad, now spelled Flagstead, still live in the White Lake area.
The weathervane was built and donated to the community in 1984 by the Whitehall Metal Studios, Inc. (now Whitehall Products LLC) who is located in downtown Montague just one block from the weathervane.
Specifications of the World's Largest Weathervane
| | |
| --- | --- |
| Overall Height | 48 FT. 0 IN. |
| Arrow Length | 26 FT. 2 IN. |
| Overall Length of Schooner | 14 FT. 3 IN. |
| Height of Schooner | 11 FT. 7 IN. |
| Height of Directional Letters | 3 FT. 6 IN. |
| Diameter of Large Globes | 4 FT. 6 IN. |
| Diameter of Small Globes | 3 FT. 0 IN. |
| Weight of Weathervane | 3,500 LBS. |
| Weight of Arrow & Schooner | 800 LBS. |
| Black Paint | DUPONT IMRON |
| Gold Paint | AWL GRIP |
Construction Information:
Mast – Steel pipe and plate fabricated and welded.
Directional arms, arrow, and schooner – Extruded tubes, angles, and sheet of aluminum fabricated, welded and hand finished.
Bearings – Arrow and schooner rotate on two large ball bearing assemblies.
Globes – Reinforced fiberglass
Pilings – Seven 14″ diameter reinforced concrete augers cast pilings 36 feet deep.