Cullen Memorial Little League Fields
In May 2004, the cry of "play ball" echoed for the first time at the brand new Little League fields on Cook Street. The new location has many upgrades from the previous fields on Wilcox Street. There is a new concession stand and bathroom facility, as well as a gravel parking lot with a barrier-free, paved path to the concession area.
The public is welcome to use the fields for sand lot games anytime except when Little League games are being played, or practices are being held.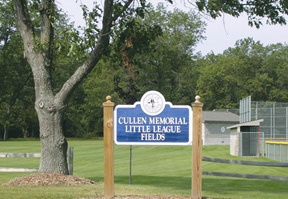 If you need information regarding Little League in the White Lake area, please call Curt Schaeffer 231-672-1299.
The City of Montague thanks the following for their contributions to the new Cullen Memorial Little League Fields and Concession/Rest Rooms Facility:
White Lake Little League Association
Carl Peter and Hildur L. Damm Charitable Fund
Michigan Nation Guard Armory 1436th
Montague – Whitehall Masonic Lodge #98
White Lake Order of the Eastern Star #201
White Lake Community Fund
Challenge Machine / James Lee Foundation
Montague – Whitehall Rotary Club
WinBerg Construction
Double L Enterprises
Kenny Erdman
MasterTag International
Howmet Corporation
Whitehall Products
The Montague Department of Public Works
The Montague Mayor, City Council and Staff