Hart-Montague Bike Trail State Park
The 22-mile long Hart-Montague Bike Trail State Park was Michigan's first linear state park. In recent years, the bike trail has been extended south of the White River through Whitehall and west through Montague. During that time, the City of Montague has constructed a new trailhead restrooms building at the east end of Spring Street in downtown Montague, just north of the Trailway Campground.
The new trailhead has parking capacity for 70 cars and an updated restroom facility. There is also a picnic shelter, barbecue grill, and a tourist information kiosk.
Snowmobiles can use the bike trail through Montague, provided there is a minimum of four inches of snow. The City of Whitehall prohibits snowmobiles from running on its bike trail, east of the White River, universally accessible, fishing bridge.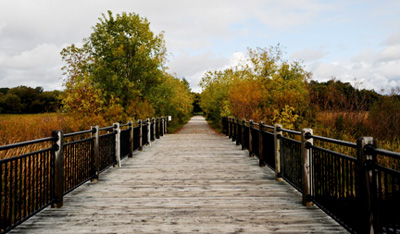 Trail Improvements
In 1999, the City of Montague began an effort to relocate the outdated trailhead at Stanton Boulevard to this location and extend the Hart-Montague Bicycle Trail south from Stanton Boulevard to White River, and west to Whitbeck Road. Completed in 2006, the project totaled $377,000. This new Hart-Montague Bicycle Trail State Park Trailhead and trail extension was made possible with the financial support of a number of public and private contributors, listed below:
MDOT – Transportation Enhancement Act – $146,500
MDEQ – Coastal Zone Management – $40,000
The Hilt Foundation – $16,500
Tri-County Bicycle Association DALMAC Fund – $10,000
Montague – Whitehall Rotary Club – $6,000
Muskegon – Oceana Trailways Commission – $6,000
Rails to Trails Conservancy – $2,000
City of Montague – $150,000