The 4th of July Parade begins at 10:00 am on July 4th. It starts in Whitehall and runs along BR US-31 into Montague where it ends at the corner of Ferry and Spring Streets.
The 4th of July Fireworks will begin at dusk on July 4th. The fireworks are shot into the sky from behind the Montague Boat Launch at the north end of White Lake.
Sponsored by:
The White Lake Elks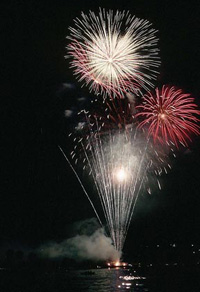 The City of Montague's Cruz'in Classic Car Show Parade is always held on the last Friday in July starting at 7:00 pm.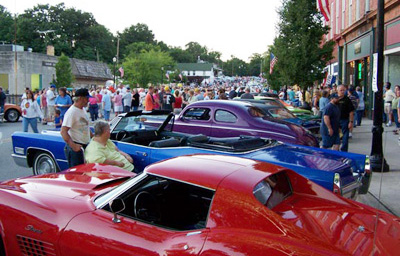 Always held on the 2nd Saturday in October, the famous Pumpkin Roll down Dowling Hill (also known as the Town Hill and the Franklin Hill) begins with registration at 9:30 am.
The event features over 700 pumpkin rolling contestants from age six months to age 95. Fun for the whole family with pumpkin pie baking contests, seed spitting contests, pumpkin painting and carving contests – and much more. The White Lake Senior Center will have food specials to go along with vendors selling elephant ears, hot dogs, pizzas, carmel corn, candied apples, etc. For more information, call the White Lake Area Chamber of Commerce at 231-893-4585.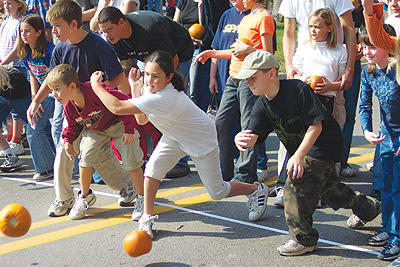 The 2017 White Lake Christmas Parade will be held Saturday, December 2nd at 2:00 pm. The parade will start in Whitehall and end in Montague. Santa Claus will be at his house in front of Montague City Hall following the parade.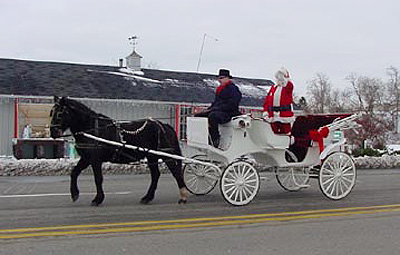 Santa will be at his house in front of Montague City Hall on the corner of Spring Street and Ferry Street following the Christmas Parade on December 2, 2017.
He will be back at his house on Fridays, December 8th and 15th from 4-6 pm and on Saturdays, December 9th and 16th from 1-3 pm. Bring the kids down and take their picture while they sit on Old St. Nick's lap. For additional information, contact Montague Chief Robert Rought at 231-893-0810.
Kids that want to send a letter to Santa can drop it in the mailbox slot on Santa's House, or mail it to: Santa Claus, c/o Montague Police Department, 8778 Ferry Street, Montague, MI 49437.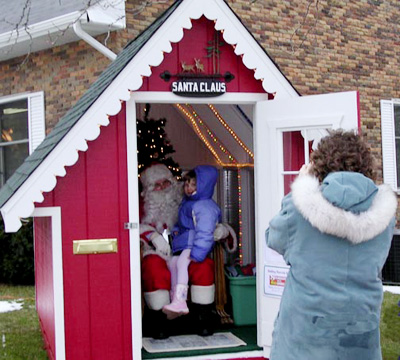 In 2004 the Montague Police Department constructed a new and improved "Santa House." The old house, over forty years old, was maintained and repaired for many years by retired police officer Bob Kowalski. The "Santa House," a Montague Police tradition, has been an annual attraction to White Lake area children ever since the 1960s.
Donations to the new "Santa House"
Todd Afton, Standard Supply & Lumber – all building materials
Ed Rumsey – labor to build house
Paul Potter, Triple P Service – painting
Sherwin Williams – paint
Dan Felt, White Lake Flooring – carpeting
Chris Lantz, White Lake Flooring – carpet installation
Jeff Cockerill, Hunt's Hardware – Christmas tree and mail slot
Dan Sikkenga, Whitehall Products – refurbish sign
Ken Ramthun – paving blocks and mobilization
Brian Heykoop, Heykoop's Graphics – sign for Santa's hours
Bob Kimball, Pamida – Christmas lights
Lori Cater, Dollar Discount – toys
Jeana Simon, Wesco – candy
Glen Lipka – candy canes
Mayor Henry Roesler – Santa's chair
Montague DPW – moving Santa's House to and from storage area
Montague Police personnel
Thank you, everyone!