Junk Disposal & Recycling
The City of Montague is a member of the White Lake Area Solid Waste Authority. Residents of the City can dispose of rubbish, garbage, and recyclables at the WLASWA facility.
2100 West Holton-Whitehall Road
231-893-2405
» Map & Directions
Open Wednesdays & Saturdays
8:00 a.m. to 4:00 p.m.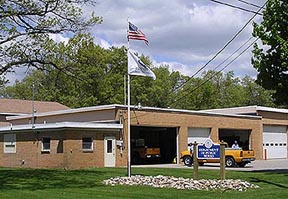 (Note: Mobile Users may need to use horizontal scrolling to view this table.)
Fee Schedule (revised and approved on 7/1/2016)
Item
Size (Description)
Fee
Appliance
Extra small – coffeemaker/toaster
$1.00
Appliance
Mid size – dishwasher, washer, dryer, TV, stove
$15.00
Appliance
Large - Refrigerators, freezers, air conditioners
$35.00
Box spring
twin
$6.00
Box spring
full
$12.00
Box spring
queen or king
$12.00
Building supplies
single pick up box
$70.00
Building supplies
double pick up box
up to $90
Building supplies
multiple axle trailer
$90 & up
Cement
small load
$6.00
Cement
1/4 truck
$18.00
Cement
Larger (send to White Lake Excavating)
$18.00
Chairs
$6.00
Couch
love seat
$9.00
Couch
full
$12.00
Couch
hide-a-bed
$15.00
Hazardous material
NOT ACCEPTED
Household Items
Pick Up Box (level)
$25.00
Household Items
Pick Up Box (double)
$50.00
Leaves/shrubs/branches*
small load
$9.00
Leaves/shrubs/branches*
level load
$18.00
Leaves/shrubs/branches*
oversize load
$30.00
Mattress
twin
$6.00
Mattress
full or queen
$12.00
Mattress
king
$18.00
Recycle
20 gallon (sorted)
$1.00
Recycle
20 gallon (unsorted)
$4.00
Recycle
empty 55 gal. drum
$2.00
Tires
car (with or without rims)
$5.00
Tires
truck (with or without rims)
$12.00
Tires
tractor (with or without rims)
$30.00
Trash
small grocery/tall kitchen
(13 gal)
$1.00
Trash
30 gallon bag
$2.00
Trash
55 gallon bag
$4.00
Water Heaters
$9.00
* Restricted to Maximum size of 4 inches diameter and maximum length of 5 foot long
Note: We no longer take oil, antifreeze or similar liquids