Department of Public Works
The DPW handles a wide range of maintenance and beautification projects for the City of Montague, including the sewer and water system management, and brush removal.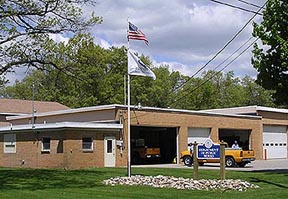 Office Address: 4976 Bowen Street
Mailing Address: 8778 Ferry Street
Montague, MI 49437
Phone: 231-893-2235
Fax: 231-893-0815
email: DPW@CityofMontague.org
Garage Hours:
Monday-Friday, 7 am – 3:30 pm
Staff:
Steve Hammond, Superintendent
Scott Beishuizen, Foreman
Steve Lohman, Cemetery Sexton
Kyle Jelinek, DPW Maintenance
Alan Weesies, DPW Maintenance
Sanitary Sewer Backups
Residents are advised to contact the DPW at first chance to report any suspected sewer blockage. In the case of an after hour emergency please dial Muskegon Central Police Dispatch at 911 for assistance.
Please note that Public Act 170 of 1964, as amended by Public Act 222 of 2001, requires that you file a written claim within 45 days if you are seeking compensation for personal injury or property damage as a result of an overflow or backup of a sewage disposal system or storm water system. Notice should be mailed to the City of Montague, 8778 Ferry Street, Montague, MI 49437. Failure to provide notice will preclude any potential claim of damage.
Yard Waste Disposal
Leaves & Grass Clippings
City residents may deposit grass clippings and leaves at the DPW yard located at the corner of Cook and Bowen Streets. The leaves and clippings must be removed from the bags, unless the bags are biodegradable.
Brush
Curbside pick-up of limbs and brush takes place on the first full week of April.  The City's contracted service will be chipping normal yard waste and limbs. Brush must be placed close to the street and should not be over four feet in length or four inches in diameter. No stumps, building materials, leaves, or other debris will be collected.
Sorry… the DPW cannot collect brush deposited in alleys, nor trees or brush that was generated by a commercial trimming service. Residents that are clearing mature trees must also have their brush removed by a private company, as this City service is not for tree removal.
Limbs and brush must be placed out by the street no later than 7 AM on Monday morning of that first full week in April, as the DPW collection crew will make only one trip through town. Please do not put brush out by the road more than one week prior to pick-up.
Junk Disposal & Recycling
The City of Montague is a member of the White Lake Area Solid Waste Authority. City residents can dispose of rubbish, garbage, and recyclables.